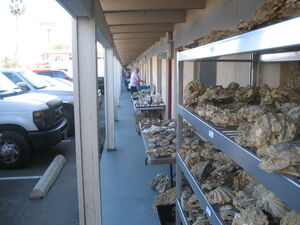 The Tucson Gem, Mineral & Fossil Showcase is one of the premier gem and mineral shows in the world. The event takes place annually in late January and February at approximately 40 to 49 different locations across the city of Tucson, Arizona. Most of the shows are open to the public, except for certain trade shows where you will need to register with your business license. There is not one single location for gems, minerals and fossils, but rather dealers occupy dozens of locations across the city: many big hotels and most motels are occupied for this occasion, with professionals displaying their specimens in such locations as hotel bedrooms, lobbies, tents, and lawns. The premier event of the Gem, Mineral & Fossil Showcase is the Tucson Gem & Mineral Show TM produced by the Tucson Gem and Mineral Society. This show has been held annually since 1955 and is now occupies the Tucson Convention Center. All of the shows have attendees from all across the world which includes the general public, experts, beginning collectors, museum employees, dealers, retailers, and researchers. Many museums and universities, such as the Smithsonian Institution and the Sorbonne have displayed at the Tucson Gem and Mineral Show TM. The Tucson Gem and Mineral Show TM and all of these other different shows bring in over 110 million dollars to the local Tucson economy.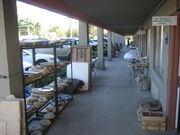 The Tucson Gem and Mineral Show TM is held at the Tucson Convention Center starting on the second Thursday of February. The first Tucson Gem and Mineral Show TM was held in an elementary school in 1955 and shortly there after moved to a quonset hut at the Tucson Fair Grounds. Then in 1973 they moved into the Tucson Community Center. They occupied the North Exhibit Hall first, then expanded into the Arena and upper Arena concourse. After the completion of the new facility in 1990, which is now called the Tucson Convention Center, the Tucson Gem and Mineral Show TM now occupies the Arena, Exhibition Halls A-B-C, Galleria and Ballrooms.
External links
Edit
Ad blocker interference detected!
Wikia is a free-to-use site that makes money from advertising. We have a modified experience for viewers using ad blockers

Wikia is not accessible if you've made further modifications. Remove the custom ad blocker rule(s) and the page will load as expected.