For the article on the geologic formation: Sharktooth Hill Formation
Cow Sharks
Edit
Hexanchus andersoni
Notorynchus sp.
Squaliformes
Edit
Echinorhinus blakei
Squalus occidentalis
Squatinformes
Edit
Heterodontiformes
Edit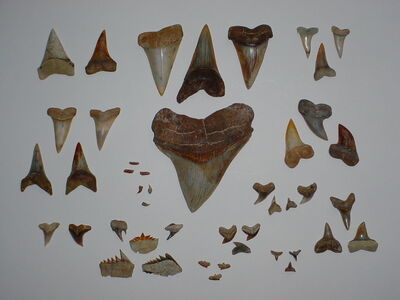 Lamniformes
Edit
Carcharias taurus
 ?Megachasma sp.
Alopias ?latidens
Cetorhinus sp.
Carcharocles chubutensis
Carcharocles megalodon
Cosmopolitodus planus
Cosmopolitodus hastalis
Carcharodon sp
Isurus oxyrinchus
Isurus retroflexus
Parotodus benedeni
Carcharhiniformes
Edit
Cephaloscyllium
cf Scyliorhinus
Galeorhinus sp.
Triakis sp.
Mustelus sp.
Hemipristis serra
Carcharhinus antiquus
Carcharhinus cf "egertoni"
Carcharhinus cf limbatus
Carcharhinus obscurus
Galeocerdo aduncus
Physogaleus contortus
Sphyrna cf zygaena
Sphyrna cf media
Rajiformes
Edit
"Rhinobatos" sp.
Raja sp.
Myliobatiformes
Edit
Dasyatis spp.
Gymnura sp.
Mobula loupianensis
Myliobatis merriami
Myliobatis smithii
This list is incomplete. You can help Fossil Wiki by expanding it!
Ad blocker interference detected!
Wikia is a free-to-use site that makes money from advertising. We have a modified experience for viewers using ad blockers

Wikia is not accessible if you've made further modifications. Remove the custom ad blocker rule(s) and the page will load as expected.