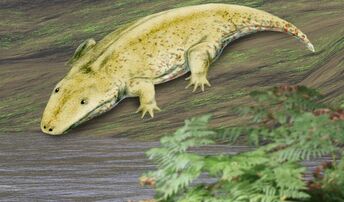 Saharastega is an extinct genus of prehistoric amphibian which lived during the Permian period some 250 million years ago. Its fossils have been found in Niger, Africa.
References
Edit
Sidor, C. A., O'Keefe, F. R., Damiani, R., Steyer, J. S., Smith, R. M. H., Larsson, H. C. E., Sereno, P. C., Ide, O. & Maga, A. 2005. Permian tetrapods from the Sahara show climate-controlled endemism in Pangaea. Nature 434, 886-889.
Steyer, J. S., Damiani, R., Sidor, C. A., O'Keefe, R., Larsson, H. C. E., Maga, A. & Ide, O. 2006. The vertebrate fauna of the Upper Permian of Niger. IV. Nigerpeton ricqlesi (Temnospondyli: Cochleosauridae), and the edopoid colonization of Gondwana. Journal of Vertebrate Paleontology 26, 18-28.
External links
Edit

Ad blocker interference detected!
Wikia is a free-to-use site that makes money from advertising. We have a modified experience for viewers using ad blockers

Wikia is not accessible if you've made further modifications. Remove the custom ad blocker rule(s) and the page will load as expected.