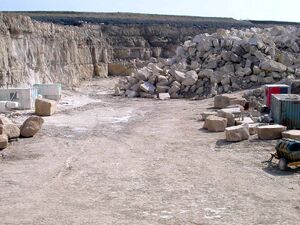 A quarry is a type of open-pit mine from which rock or minerals are extracted. Quarries are generally used for extracting building materials, such as dimension stone, construction aggregate, riprap, sand, and gravel. They are often colocated with concrete and asphalt plants due to the requirement for large amounts of aggregate in those materials. Fossils are also commonly uncovered in quarries, including the noteable Darwinius type specimen.

Ad blocker interference detected!
Wikia is a free-to-use site that makes money from advertising. We have a modified experience for viewers using ad blockers

Wikia is not accessible if you've made further modifications. Remove the custom ad blocker rule(s) and the page will load as expected.