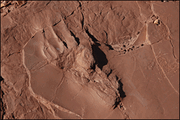 Prehistoric Trackways National Monument is an addition to the National Landscape Conservation System of the United States of America under the Omnibus Public Land Management Act, signed into law on March 30, 2009. Approximately 5,280 acres (21.37 km2; 8.25 sq mi) of Bureau of Land Management land in the Robledo Mountains in southern New Mexico have been given additional protection. The site includes a major deposit of Paleozoic Era fossilized footprint megatrackways, discovered in 1987.[1] This is the fourth National Monument established in 2009 and the first established by the Barack Obama administration. There are now 100 National Monuments in the United States.
References
Edit
External links
Edit
Ad blocker interference detected!
Wikia is a free-to-use site that makes money from advertising. We have a modified experience for viewers using ad blockers

Wikia is not accessible if you've made further modifications. Remove the custom ad blocker rule(s) and the page will load as expected.