Oligopygus was an Eocene sea urchin has a medium-sized test and is found throughout the south-eastern part of North America, the Caribbean, the West Indies, and Central America.
Identifiable features
Edit
Test of medium size, elongate to subcircular in outline; margin and adoral surface rounded, sunken towards peristome
Apical system subcentral, monobasal, with four gonopores. Sexual dimorphism in size of genital pores (larger in females)
Petals well developed, open distally, anterior petal III longest, posterior pair (V & I) shortest. Pores strongly conjugate, equal number of pores in pores series in the same petal. Ambulacra beyond petals composed of primary plates, demiplates, and in some species included plates; demiplates and included plates small, thin, not reaching interior of test, absent near peristome
Peristome subcentral, opening subpentagonal to subtrigonal, in deep transverse depression or trough
Periproct inframarginal, midway between peristome and posterior margin
Buccal pores present on edge of peristome
Tubercles small, irregularly arranged both adorally and adapically
Species and locations
Edit
O. costuliformis Jeannet, 1928; Late Eocene, Trinidad
O. curasavica Molengraaff, 1929; Upper Eocene, Curacao
O. haldemani (Conrad, 1850); Late Eocene, Florida
O. jamaicensis Arnold & Clark, 1927; Middle Eocene, Jamaica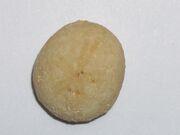 O. kugleri Jeannet, 1928; Late Eocene, Trinidad
O. nancei Cooke, 1941; Late Eocene, Venezuela
O. phelani Kier, 1967; Late Eocene, Florida, USA
O. pinguis Palmer in Sanchez Roig, 1949: Middle-Late Eocene, Cuba
O. putnami Israelsky; 1933; Upper Eocene, Mexico
O. rotundus Cooke, 1942; Late Eocene, Alabama, USA
O. sanchezi Lambert, 1932; Middle Eocene, Cuba
O. wetherbyi de Loriol, 1888; Late Eocene, Florida, USA
O. zyndeli Jeannet, 1928; Late Eocene, Trinidad
References
Edit
Ad blocker interference detected!
Wikia is a free-to-use site that makes money from advertising. We have a modified experience for viewers using ad blockers

Wikia is not accessible if you've made further modifications. Remove the custom ad blocker rule(s) and the page will load as expected.