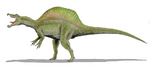 Spinosaurus (meaning "spine lizard") is a genus of theropod dinosaur which lived in what is now North Africa, sometime during the Albian and Cenomanian stages of the Cretaceous period, about 112 to 93.5 million years ago. This genus was first known from Egyptian remains discovered in the 1910s and described by German paleontologist Ernst Stromer. These original remains were destroyed in World War II, but additional skull material has come to light in recent years. It is unclear whether one or two species are represented in the described fossils. The best known species is S. aegyptiacus from Egypt, although a potential second species, S. marocannus, has been recovered from Morocco. The distinctive spines of Spinosaurus, which were long extensions of the vertebrae, grew up to 2 meters (7 ft) long and were likely to have had skin connecting them, forming a sail-like structure, although some authors have suggested that they were covered in muscle and formed a hump or ridge. Multiple functions have been put forward for this structure, including thermoregulation and display. According to recent estimates, Spinosaurus is the largest of all known carnivorous dinosaurs, even larger than Tyrannosaurus rex and Giganotosaurus. These estimates suggest that it was around 16 to 18 meters (52 to 59 ft) in length and 7 to 9 tonnes (7.7 to 9.9 short tons) in weight. (Read more...)
---
Recently promoted: Protoavis  • Cloudinidae  • Small shelly fauna
Did you know...                                                      • Suggest an article •
From The Fossil Wiki's newest articles:


Paul Sereno is an American paleontologist who is the discoverer of several new dinosaur species on several continents. He has conducted excavations at sites as varied as Inner Mongolia, Argentina, Morocco and Niger. He is a professor at the University of Chicago and a National Geographic "explorer-in-residence." Sereno's most widely publicized discovery is that of a nearly complete specimen of Sarcosuchus imperator (popularly known as SuperCroc) at Gadoufaoua in the Tenere desert of Niger. Other major discoveries include Eoraptor - the oldest known dinosaur fossil, Jobaria, the first good skull of Carcharodontosaurus iguidensis, Afrovenator, Suchomimus and the African pterosaur. (Read more...)

"I want to find a voracious, small-minded predator and name it after the IRS."
Community To-Do List
Add an item here!
==Explore the prehistoric world==
Ad blocker interference detected!
Wikia is a free-to-use site that makes money from advertising. We have a modified experience for viewers using ad blockers

Wikia is not accessible if you've made further modifications. Remove the custom ad blocker rule(s) and the page will load as expected.