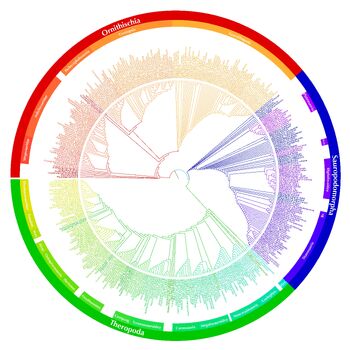 This list of dinosaurs is a comprehensive listing of all genera that have ever been included in the superorder Dinosauria, excluding class Aves (birds, both living and those known only from fossils) and purely vernacular terms. The list includes all commonly accepted genera, but also genera that are now considered invalid, doubtful (nomen dubium), or were not formally published (nomen nudum), as well as junior synonyms of more established names, and genera that are no longer considered dinosaurs. Many listed dinosaurs have since been reclassified as everything from birds to crocodilians to petrified wood. The list contains 1237 names, of which approximately 833 are considered either valid dinosaur genera or nomina dubia.
Scope and terminology
Edit
There is no official, canonical list of dinosaur genera. The closest is the Dinosaur Genera List, compiled by biological nomenclature expert George Olshevsky, which was first published online in 1995 and is regularly updated. The most authoritative general source in the field is the second (2004) edition of The Dinosauria. The vast majority of citations are based on Olshevsky's list, and all subjective determinations (such as junior synonymy or non-dinosaurian status) are based on The Dinosauria, except where they conflict with primary literature. These exceptions are noted.
Naming conventions and terminology follow the International Code of Zoological Nomenclature. Technical terms used include:
Genus

Author

Year

Status

Fossil Range

Geographic Range

Notes

Aachenosaurus
Smets
1888
Valid.
Late Cretaceous
Europe
A hadrosaur.
"Abdallahsaurus"
Maier
2003
Nomen nudum
Late Jurassic
Africa
Never formally described, but most likely synonymous with Brachiosaurus or Giraffatitan.
Abelisaurus
Bonaparte
Novas
1985
Valid
Late Cretaceous
S. America
Abrictosaurus
Hopson
1975
Valid
Early Jurassic
Africa
Originally a species of Lycorhinus. Has some significance in the debate over sexual dimorphism in heterodontosaurids.
Abrosaurus
Ouyang
1989
Valid
Middle Jurassic
Asia
Type species named after 11th century Chinese poet.
Acanthopholis
Huxley
1867
Valid
Early Cretaceous
Europe
Achelosaurus
M. J. Ryan
A. P. Russell
D. A. Eberth
Currie

2001
Invalid
Misspelling of Achelousaurus.[1]
Achelousaurus
Sampson
1995
Valid
Late Cretaceous
N. America
Achillesaurus
Martinelli and Vera
2007
Valid
Late Cretaceous
Argentina
Achillobator
Perle, Norell, & Clark
1999
Valid
Late Cretaceous
Mongolia
"Acracanthus"
Invalid
Original invalid name of Acrocanthosaurus.
Acrocanthosaurus
Stovall & Langston
1950
Valid
Early Cretaceous
North America
Actiosaurus
Nomina dubium
Jurassic
France
Probably an ichthyosaur.
Adamantisaurus
Santucci & Bertini
2006
Valid
Late Cretaceous
South America
Known from only six tail vertebrae.
Adasaurus
Barsbold
1983
Valid
Late Cretaceous
Central Asia
Adeopapposaurus
Martínez
2009
Valid
Early Jurassic
Argentina
The fossils now referred to this genus were first thought to represent South American examples of Massospondylus.
Aegyptosaurus
Stromer
1932
Valid
Middle Cretaceous
Africa
Aeolosaurus
Powell
1987
Valid
Late Cretaceous
South America
Aepisaurus
Gervais
1852
Valid
Early Cretaceous
France
An obscure genus from an unknown family, represented by a single humerus, now lost. It has been misspelled several ways in the scientific literature, with multiple dates given to the year of description as well.
Aerosteon
Sereno et al.
2009
Valid
Late Cretaceous
Argentina
The fossils show evidence of a bird-like respiratory system.[2]
Aetonyx
Broom
1911
Nomina dubium
Early Jurassic
South Africa
Possible junior synonym of Massospondylus.
Afrovenator
Sereno et al.
1994
Valid
Early Cretaceous
North Africa
Agathaumas
Cope
1872
Valid
Late Cretaceous
Wyoming
The first ceratopsian whose remains were found and described by a paleontologist.
Aggiosaurus
Ambayrac
1913
Misident.
Late Jurassic
France
Actually a metriorhynchid crocodilian.
Agilisaurus
Peng
1990
Valid
Middle Jurassic
China
Agnosphitys
Fraser et al.
2002
Disputed
Late Triassic
England
It may be a chimera.
Agrosaurus
Seeley
1891
Disputed
Triassic
Australia
The name Agrosaurus is now generally considered to be a nomen dubium or a junior synonym of Thecodontosaurus.
Agujaceratops
Lucas, Sullivan & Hunt
2006
Valid
Late Cretaceous
Texas
Originally known as Chasmosaurus mariscalensis and described by Lehman in 1989, it was moved to a new genus by Lucas, Sullivan and Hunt in 2006.
Agustinia
Bonaparte
1999
Valid
Early Cretaceous
South America
"Airakoraptor"
Perle, Norell & Clark
1999
nomen nudum
Late Cretaceous
Mongolia
Alamosaurus
Gilmore
1922
Valid
Late Cretaceous
New Mexico
"Alashansaurus"
nomen nudum
Early Cretacous
Mongolia
Now known as Shaochilong.
Alaskacephale
Sullivan
2006
Valid
Late Cretaceous
Alaska
The genus name refers to Alaska, where the fossil was found in the Prince Creek Formation.
Albertaceratops
Ryan
2007
Valid
Late Cretaceous|Alberta
This genus is unusual in combining long brow horns with an otherwise centrosaurine skull, as centrosaurines normally possess short brow horns.
Albertonykus
Longrich & Currie
2008
Valid
Late Cretaceous
Alberta
The smallest known alvarezsaurid ever discovered in North America
Albertosaurus
Osborn
1905
Valid
Late Cretaceous
North America
Albisaurus
Fritsch
1893
nomen dubium
Czech Republic
A non-dinosaurian reptile.
Alectrosaurus
Gilmore
1933
Valid
Late Cretaceous
Inner Mongolia
Aletopelta
Kirkland & Ford
2001
Valid
Late Cretaceous
California
Algoasaurus
Broom
1904
Valid
Late Jurassic-Early Cretaceous
South Africa
Alioramus
Kurzanov
1976
Late Cretaceous
Asia
Aliwalia
Junior synonym
Late Triassic
South Africa
Junior synonym of Eucnemesaurus.
Allosaurus
Marsh
1877
Valid
Late Jurassic
North America
Portugal
Tanzania
Alocodon
Thulborn
1973
nomen dubium
Middle Jurassic
Portugal
Altirhinus
Norman
1998
Valid
Early Cretaceous
Mongolia
Altispinax
Huene
1923
nomen dubium
Early Cretaceous
Europe
Alvarezsaurus
Bonaparte
1991
Valid
Late Cretaceous
Argentina
Possibly a bird.
Alwalkeria
Chatterjee & Creisler
1994
Valid
Late Triassic
India
Alxasaurus
Russell & Dong
1993
Valid
Early Cretaceous
Inner Mongolia
Amargasaurus
Salgado & Bonaparte
1991
Valid
Early Cretaceous
South America
Amargatitanis
Apesteguía
2007
Valid
Early Cretaceous
Argentina
Amazonsaurus
Carvalho et al.
2003
Valid
Early Cretaceous
South America
Ammosaurus
Marsh
1889
Valid
Early-Middle Jurassic
North America
Ampelosaurus
Le Loeuff
1995
Valid
Late Cretaceous
Europe
Amphicoelias
Cope
1878
Valid
Late Jurassic
North America
Based on surviving descriptions of a single fossil bone, A. fragillimus may have been the longest known vertebrate at 40–60 meters (131–196 ft) in length.
"Amphicoelicaudia"
nomen nudum
Late Cretaceous
China
Possibly Huabeisaurus.
"Amphisaurus"
preoccupied
Early Jurassic
North America
preoccupied name, now known as Anchisaurus.
Amtosaurus
Kurzanov & Tumanova
1978
Valid
Late Cretaceous
Mongolia
Possibly Talarurus.
Amurosaurus
Bolotsky & Kurzanov
1991
Valid
Late Cretaceous
East Asia
Amygdalodon
Cabrera
1947
Valid
nomen dubium
South America
Anabisetia
Coria & Calvo
2002
Valid
Late Cretaceous
Patagonia
Anasazisaurus
Hunt and Lucas
1993
Valid
Late Cretaceous
New Mexico
Anatosaurus
Lull & Wright
1942
Junior synonym
Late Cretaceous
North America
Junior synonym of Edmontosaurus.
Anatotitan
Chapman & Brett-Surman
1990
Valid
Late Cretaceous
North America
Anchiceratops
Brown
1914
Valid
Late Cretaceous
North America
Anchiornis
Xu et al.
2009
Valid
Early Cretaceous?
Liaoning, China
Anchisaurus
Marsh
1885
Valid
Early Jurassic
North America
Andesaurus
Calvo & Bonaparte
1991
Valid
Late Cretaceous
South America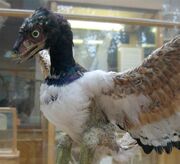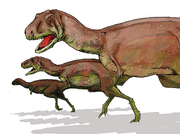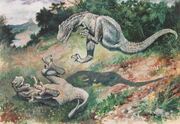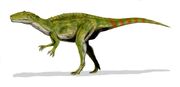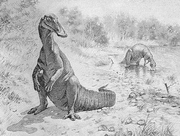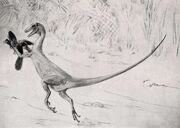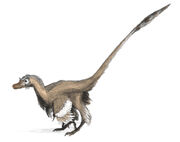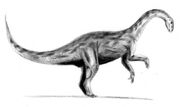 See also
Edit
Uncited genera names can be attributed to Olshevsky, 2007. Dalianraptor is listed by Olshevsky, but omitted from this list, since it has not been described as a dinosaur in a published source.
References
Edit
Ad blocker interference detected!
Wikia is a free-to-use site that makes money from advertising. We have a modified experience for viewers using ad blockers

Wikia is not accessible if you've made further modifications. Remove the custom ad blocker rule(s) and the page will load as expected.