Ischyodus
Ischyodus is an extinct genus of cartilaginous fish belonging to the subclass Holocephali, which includes the modern-day chimaeras.
Ischyodus was virtually identical to the present-day chimaera Chimaera monstrosa, which is found in the Atlantic Ocean and Mediterranean Sea. Just like C. monstrosa, Ischyodus had large eyes, a long whip-like tail, small lips, large pectoral fins and dorsal fin, and a poisonous dorsal spike attached to the front of the dorsal fin. The spike probably served as a method of protection against predators.
Dental plates have been found at several sites in North Dakota.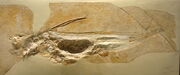 Ischyodus bifurcatus
Ischyodus brevirostris
Ischyodus dolloi
Ischyodus gubkini
Ischyodus incisus
Ischyodus latus
Ischyodus lonzeensis
Ischyodus minor
Ischyodus mortoni
Ischyodus planus
Ischyodus rayhassi
Ischyodus thurmanni
Ischyodus townsendi
Ischyodus williamsae
Ischyodus yanshini
Ischyodus zinsmeisteri

Ad blocker interference detected!
Wikia is a free-to-use site that makes money from advertising. We have a modified experience for viewers using ad blockers

Wikia is not accessible if you've made further modifications. Remove the custom ad blocker rule(s) and the page will load as expected.