Euramerica (also known as Laurussia, the Old Red Continent or the Old Red Sandstone Continent) was a minor supercontinent created in the Devonian as the result of a collision between the Laurentian, Baltica and Avalonia cratons (Caledonian orogeny).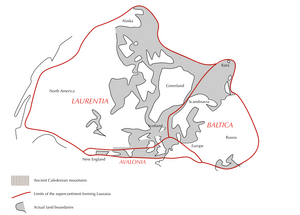 Euramerica became a part of the major supercontinent Pangaea in the Permian. In the Jurassic, when Pangaea rifted into two continents, Gondwana and Laurasia, Euramerica was a part of Laurasia. In the Cretaceous, Laurasia split into the continents of North America and Eurasia. The Laurentian craton became a part of North America, while Baltica became a part of Eurasia.
External links
Edit
Ad blocker interference detected!
Wikia is a free-to-use site that makes money from advertising. We have a modified experience for viewers using ad blockers

Wikia is not accessible if you've made further modifications. Remove the custom ad blocker rule(s) and the page will load as expected.