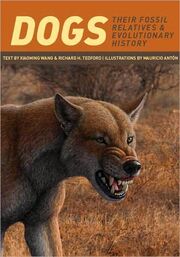 Dogs: Their Fossil Relatives and Evolutionary History is a book written by Xiaoming Wang and Richard H. Tedford, and was published June of 2008.
Publisher's summary
Edit
"[…]With their rich fossil record, diverse adaptations to various environments, and different predatory specializations, canids are an ideal model organism for the mapping of predator behavior and morphological specializations. They also offer an excellent contrast to felids, which remain entrenched in extreme predatory specializations. The innovative illustrated approach in this book is the perfect accompaniment to an extremely important branch of animal and fossil study. It transforms the science of paleontology into a thrilling visual experience and provides an unprecedented reference for anyone fascinated by dogs."
―Publisher's summary of Dogs: Their Fossil Relatives and Evolutionary History

Ad blocker interference detected!
Wikia is a free-to-use site that makes money from advertising. We have a modified experience for viewers using ad blockers

Wikia is not accessible if you've made further modifications. Remove the custom ad blocker rule(s) and the page will load as expected.