Belantsea
Belantsea montana (named after a legendary ancestor of the Crow Nation) was a peculiar-looking cartilaginous fish that lived during the Lower Carboniferous. Its fossils are found in the Bear Gulch Limestone lagerstätte. Its body was oddly built, being leaf-shaped, with muscular fins and a small tail.
Paleobiology
Edit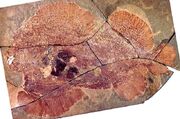 Belantsea had a bodyplan that would allow for great maneuverability, but at the cost of speedy cruising. Its few, large, triangular teeth formed a beak-like arrangement that allowed it to graze bryozoans, sponges, crinoids and other encrusting animals.
B. montana is the best known of a group of bizarre cartilaginous fish known as the "Petalodontiformes".
External links
Edit
Ad blocker interference detected!
Wikia is a free-to-use site that makes money from advertising. We have a modified experience for viewers using ad blockers

Wikia is not accessible if you've made further modifications. Remove the custom ad blocker rule(s) and the page will load as expected.